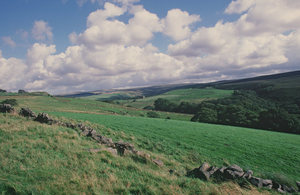 68 projects to receive a multi-million pound boost for green jobs and nature recovery
Funding will create over 300 hectares of woodlands, restore hedgerows, and plant trees in cities as we build back greener from the pandemic
Nearly £40 million allocated to projects across England in this first round, with second round of funding to open in early 2021
Projects that protect landscapes, connect people with nature and help create and retain thousands of green jobs across England have been awarded a share of almost £40 million, the government announced today.
The 68 projects will see over 800,000 trees planted and help restore damaged habitats such as moorlands, wetlands and forests. The projects will also support conservation work and help to improve education about the environment.
This first round of funding from the Green Recovery Challenge Fund will award nearly £40 million. The second funding round will open for applications early next year. The Green Recovery Challenge Fund is a key part of the Prime Minister's 10 Point Plan to kick-start nature recovery, create green jobs and tackle climate change while helping the country build back better and greener from the pandemic.
The fund will be delivered by the National Lottery Heritage Fund in partnership with Natural England and the Environment Agency.
The winning projects include:
The Woodland Trust, which is being awarded £3,860,200 to restore ancient woodlands and trees in 63 landscapes across England. The funding will also go towards helping increase skills and capacity within the wider forestry and conservation sectors and reinvigorate UK timber markets.
A partnership led by the Youth Hostel Association (YHA) in England and Wales, who will receive £2,543,600 to connect young people to nature and build a new workforce for the green recovery, targeting young people from deprived areas through virtual, field or class based learning, day and residential trips, citizen science programme and volunteering with experienced environmental tutors across 200 diverse natural heritage sites, such as conservation areas, AONBs, national parks and more.
The Centre for Sustainable Healthcare, which has been awarded £580,400 to improve access to green spaces at NHS sites across England, including by planting 10,000 trees at 50+ NHS sites, and providing outdoor ecotherapy sessions and even refurbishing a garden for a chemotherapy suite, which will allow patients to have treatment outside.
The Conservation Education & Research Trust will receive £249,900 to help plant 12 'tiny forests' (the size of a tennis court) in urban areas across England.
The Game & Wildlife Conservation Trust's Owl Box Initiative is being awarded a grant of £123,700 to work with 100 farms and supply communities with Barn Owl boxes, monitoring their success and involving farming families in this process.