Julia Durbin- Horticutural Therapist
2020 has been a very strange year. COVID -19 has affected us all, even those who have not become ill or lost friends and family to the virus. Restrictions on our usual ways of socialising have meant increased levels of loneliness, anxiety and depression.1
With Tier 2 restrictions replaced with tier 4 as case numbers rise, many people are getting thoroughly fed up. So, what can be done to help? One possible answer is to get your hands dirty. In 2017, I qualified as a Horticultural Therapist and I'm not sure my hands have been clean since.
Horticultural Therapy is the posh way to describe what every gardener knows; life is better with mud under your nails. Gardening as a way to increase your sense of wellbeing has been around a long time…..
Male inmates at Victorian asylums were set to work in the gardens of the large grounds to help calm them.
Soldiers with shellshock often gardened as part of their treatment.
Now there are gardens for physical and mental health in many hospitals around the country including the Royal Bethlem Hospital (Bedlam's successor) where I got my first job post qualifying.
The Defence Medical Rehabilitation Centre (DMRC) at Stanford Hall in Leicestershire still uses horticultural therapy as part of the rehabilitation programme for injured soldiers, sailors and airmen.
In my current job, I use gardening to help people 'in recovery' from drug and alcohol addiction. These people have stopped drinking or using and now have a lot of time on their hands which gardening helps fill. And there are other benefits that gardening brings which I will explore later. However, most people are not addicts, serving in the armed forces or so unwell they need to be hospitalised.
So how can gardening help?
Recent studies2 have shown that:
Gardening increases physical fitness and helps weight loss.
If you grow food, it can lead to a better diet.
If you work with other people at a community gardening project – tree planting in the Startson Jubilee Orchard for example – it can build a sense of community and reduce loneliness and isolation.
But talking to people who garden about why they do it, those reasons are well down the list. Most say something like 'it makes me feel good', 'it lifts my mood'.
During my work, people have said 'there's only positive thoughts in the garden' and 'it's like rehab for the mind'.
For the recovering addicts I work alongside, learning to nurture plants is a way of learning to nurture themselves. And gardening without chemical input is a useful metaphor for their new lives. In a project for homeless people where I worked with people on a roof garden, a homeless gardener summed up the feeling like this
'you're creating life… You're actually creating something and it's not …like anyone is an artist or anything , this isn't a symbolic creation you are actually creating something organic, it's going to grow, it's going to live if you look after it and up here of course we are growing vegetables all the time so that you can eat the produce or somebody else an eat it and that in turn is giving life.'
The generosity of those homeless gardeners, many of whom owned very little, and the self-esteem they felt when they were able to give to others was humbling.
Lots of books and learned papers have been written about the effects of gardening but there are a few ideas that people keep coming back to.
In 1984, E.O. Wilson developed the Biophilia Hypothesis3 proposing that our connection to nature is hardwired into our genes. The same year, Roger Ulrich4 published a paper showing that patients recovered quicker from gall bladder surgery and used lower levels of painkillers if their hospital bed had a view of the natural world compared with those who couldn't see outside. He went on to develop the Stress Reduction Theory which suggests that after a stressful experience, the natural world promotes both emotional and physical recovery.
Attention Restoration Theory5 developed by psychologists Rachel and Stephen Kaplan claims that our brains get fatigued by the directed attention required by the modern world. Being in nature helps to clear our heads in a way that restores our capacity to focus.
It's easy to see how any one of these ideas might lead to feeling better after spending time in the garden. But let's get back to those muddy fingernails. Recent work has shown that a common soil bacterium boosts serotonin levels in the brain.6 Low levels of serotonin are linked with low mood, so increasing serotonin has an effect on mood. The same 'mud bugs' have an effect on inflammation and may also help conditions such as diabetes and asthma.
The evidence all points to gardening being good for you, but how much does the reluctant gardener need to do to get any of these benefits? Got five minutes? That'll do. ….
A study of over a thousand people showed just 5 minutes green exercise a day improves both self-esteem and mood. If there's water nearby, the effect is even greater.7
That alone might encourage you just to take a walk into the orchard and sit on the bench. For those of you that don't see themselves as gardeners, don't really fancy the idea of pottering among the pots, try it and you may find that spells of gardening even work for you.
Simon, who was a reluctant gardener on the roof said 'At first I wasn't that keen. But then …I found it quite, quite mellow. It sort of chills you out'.
The 'chill' of gardening is usually referred to as flow. This is a state where you are carrying out a task, within your abilities but not so mundane as to be boring, you lose all sense of time, are present in the moment and get a psychological rest from what is troubling you. There is little need for a mindfulness app on your phone when there is weeding to do.
Now, having mentioned weeding, it's probably time to bring up the common fear that stops people gardening 'I can't tell a weed from a plant'.
Weeds are just plants in the wrong place and they often appear out of nowhere. If a garden full of bramble, buddleja and bindweed gives you pleasure, then those 'weeds' are not in the wrong place.
If you do want to create a more ordered garden, give yourself permission to make mistakes. When you pull up the wrong thing, pop it back in the soil – it will often make it. If it dies, it's a plant not a person, an error not a tragedy. And there is help on hand.
The Harleston Garden Club, in non-pandemic times, meets on Tuesdays at the Methodist Church Hall and hopes to be up and running again in late spring. The Norfolk School of Gardening runs lots of courses and has kept going through the pandemic. Lizzie is one of their grateful students:
'The NSG has quite simply turned what has been an awful year on so many fronts, into the year that I became a gardener and for that I am thankful. From knowing hardly anything and to be honest, finding gardening a bit of a chore, I now love pottering among plants. The school is welcoming and friendly in a beautiful setting.

The tutors have incredible depth of knowledge and never tire of answering the huge range of questions that are fired at them – Kevin is the GQT panel all rolled into one. Whatever your aim, whether it be to get more from your greenhouse, build a green wall or develop green fingers – you will achieve it here.

From pruning to propagating, digging to design, cuttings to compost, every area is covered and a joy to learn. I can't wait for my next workshop.'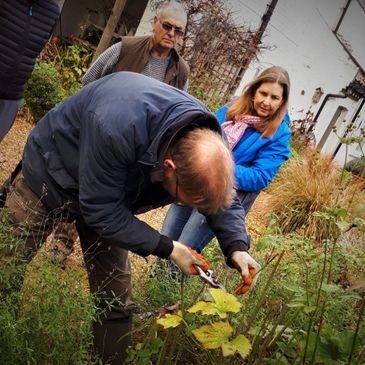 Caroline Fernandez, Horticultural Projects Manager for Norfolk and Waveney Mind says
'We believe in the therapeutic, social and health benefits of gardening and practical outdoor projects'.
The organisation runs two projects created around these principles which teach people gardening skills, Community Roots in Great Yarmouth and Gardening 4 Health in North Lynn.
The Norfolk Green Care Network has interesting articles on its site about gardening and other ways to use nature to enhance your wellbeing. One of its founders, Nigel Boldero is passionate about getting out into the natural world:
'One of the positive impacts of the pandemic has been the realisation among many more people that connecting with nature is a powerful aid to both physical and mental health. The Norfolk Green Care Network is all about promoting a wide range of opportunities for people to feel this power; from visiting the countryside, to community and other types of gardening and growing, conservation work, interacting with animals and learning about nature. Our website includes lots of projects that will help you achieve 'Less screen, MORE GREEN'!'
There are also lots of Royal Horticultural Society courses and workshops online as well as face to face as well as my personal Friday night TV viewing favourite Gardener's World which is full of tips and beautiful pictures.
Beautiful pictures of nature are at most people's fingertips. Open a search engine and type in videos of the sea, the mountains, the countryside – whatever your preference is – and the internet will provide.
These images bring some of the stress reducing benefits of physically being out in nature.8 And even in this most techie of environments we link with nature. Technobiophilia9 is 'the innate tendency to focus on life and lifelike processes as they appear in technology'.
It seems we aim to make the unfamiliar reassuring by filling the space with natural images and using words from nature – web, surf, bug, cloud, mouse and the particularly pertinent virus. There are so many more examples meaning even the most geeky person is not entirely divorced from the natural world!
As you might imagine, I prefer physical nature but if you're still not sure, you might try gardening on a small scale. House plants have been shown to lift people's mood 10 with several small collections being better than one large one.9
For those of you willing and able to step into the garden in these strange times, this quote from Audrey Hepburn sums up neatly why I think gardening as therapy works :
'To plant a garden is to believe in tomorrow'
References
1. Jia, R., Ayling, K., Chalder, T., Massey, A., Broadbent, E., Coupland, C., & Vedhara, K. (2020). Mental health in the UK during the COVID-19 pandemic: cross-sectional analyses from a community cohort study. BMJ Open. https://doi.org/10.1136/bmjopen-2020-040620
2. Buck, D., (2016). Gardens and Health: Implications for policy and practice [online] available from [23 July 2018]">https://www.kingsfund.org.uk/sites/default/files/field/field_publication_file/Gardens_and_health.pdf> [23 July 2018]
3. Wilson, E. (1984) Biophilia Cambridge, MA : Harvard University
4. Ulrich, R, S. (1984). View through a window may influence recovery from surgery Science 224:420-421
5. Kaplan, R. and Kaplan, S. (1989) The experience of nature: a psychological perspective. New York: Cambridge University Press
6. University of Bristol. "Getting Dirty May Lift Your Mood." ScienceDaily. ScienceDaily, 10 April 2007. https://sciencedaily.com/releases/2007/04/070402102001.htm
7. Barton, J. and Pretty, J. (2010) What is the Best Dose of Nature and Green Exercise for Improving Mental Health? A Multi-Study AnalysisEnviron. Sci. Technol. 2010, 44, 10, 3947–3955 https://doi.org/10.1021/es903183r
8. van den Berg, M. M. H. E., Maas, J., Muller, R., Braun, A., Kaandorp, W., van Lien, R. van den Berg, A. E. (2015). Autonomic nervous system responses to viewing green and built settings: Differentiating between sympathetic and parasympathetic activity. International Journal of Environmental Research and Public Health. https://doi.org/10.3390/ijerph121215026
9. Technobiophilia : Nature and cyberspace. (2013). In Technobiophilia : Nature and cyberspace. https://doi.org/10.5040/9781472596758
10. Lee, M. sun, Lee, J., Park, B. J., & Miyazaki, Y. (2015). Interaction with indoor plants may reduce psychological and physiological stress by suppressing autonomic nervous system activity in young adults: A randomized crossover study. Journal of Physiological Anthropology. https://doi.org/10.1186/s40101-015-0060-8