Using Nature To Nurture Good Health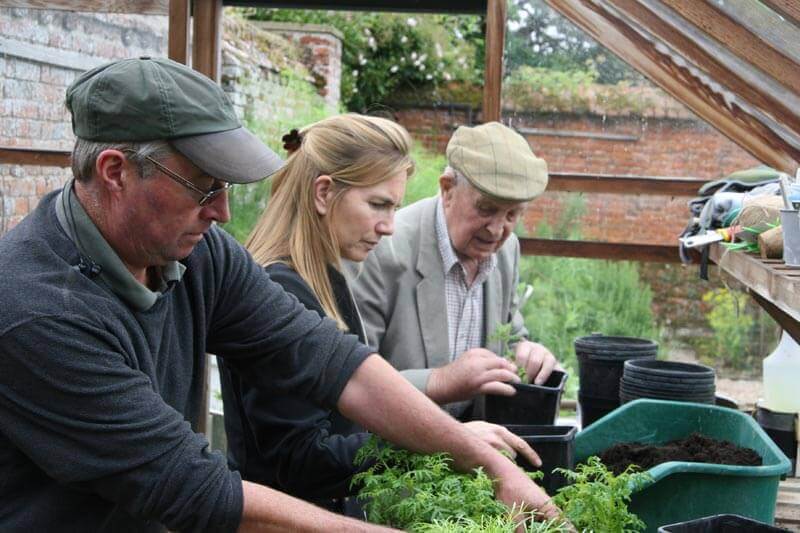 The Nurture Project is a social enterprise that operates a therapeutic year round garden project, supporting adults living with mild to moderate mental health issues. It aims to provide an impartial and safe space for adults to improve their mental and physical wellbeing in a friendly but structured environment. No gardening experience is required, and participation is offered on both a one-to-one and small group basis. The small, community orientated organisation is based in tranquil gardens in Kettlestone, near Fakenham, and is staffed by experienced horticultural therapists.
Find out more: https://www.thenurtureproject.co.uk/
Wells Community Hospital Trust – Garden Project
We are a small former "Cottage Hospital" based on the main road between Wells next the sea and Holkham.
Our aims are to help build strong communities along the West and North Norfolk Coast, by promoting and providing opportunities for local people to live more healthily and happily. We offer inside our building a variety of services, all of which are funded by our Charity Trust or privately.
Outside our building is our best kept secret – our Dementia friendly, beautiful gardens which look out across the fields of the Holkham Estate. We are going to enhance our outdoor space in readiness for spring 2021. We will be adding an outside space for public use, private hire and for fundraising events.
As part of this project we will need to move some of our existing garden structures, move large plants, build trellis and the outside structure. We have benches and beach huts which also need a lick of paint. Our project will encourage wildlife and we will be adding insect, bird and bat boxes. We would love to hear from anyone who would like to volunteer with us or help with the project
Find out more: email admin@wellshospital.co.uk or call 01328 713173
The Matthew Project Allotments
The Matthew Project is a charity which supports children and adults across Norfolk, Suffolk and Essex with drug and alcohol recovery and wellbeing. They run two allotment sites in Norwich, with the intention of helping individuals work in an environment that is good for their mental health, allows them to socialise and acquire skills whilst enjoying the fruits of their labour. Coordinator Martin Bull has been involved since March this year and with lockdown, it has been an unsteady start in respect of attendance, but he has attended the allotment twice per week and it is slowly making progress from two weed strewn patches, to something resembling an allotment. They have enjoyed small crops of potatoes, tomatoes, carrots and salad crops as well as a range of fruit. The aim is to develop this to supply some crops direct to the Matthew Project canteen. Martin is helped on a casual basis by some additional volunteers.
Find out more: https://www.matthewproject.org
The Papillon Project
The Papillon Project is an educational charity founded by Matt Willer, that is dedicated to creating productive, sustainable and ecologically sound allotments, through permaculture techniques and reusing existing materials, for young people in high schools and sixth-form colleges across Norfolk.
It is focused on promoting a fun, creative and caring space for students to learn and take action on issues ranging from sustainable living and environmental stewardship, to raising awareness about mental health and the importance of growing their own food.
Its vision is to establish an 'allotment network community', where schools and local communities can share knowledge and resources as well as teach the next generation about the challenges facing the world today and how to solve them in order to protect their futures.
Find out more: The Papillon Project
Norfolk Master Composters
The Norfolk Master Composter project started in 2006 and aims to raise Norfolk residents' awareness of the benefits of home composting. We do this through a network of volunteer advisors who encourage people in their local community to start composting at home, offer support to people who are already home composting and may be having difficulties or need encouragement.
Master Composter volunteers attend events, give talks and offer face to face advice to groups and individuals who would like to start home composting or to improve their method.
The project is delivered as a partnership between Norfolk County Council and Garden Organic.
Find out more: https://www.norfolkrecycles.com/reduce-my-rubbish/compost/master-composters/
or email: mastercomposters@norfolk.gov.uk
Thornage Hall
At Thornage Hall Independent Living, near Holt, we provide land based workshops on our biodynamically managed 70 acre estate. Our land workshops are split into three: Market Garden, Farm and Estate. Each workshop provides a range of person centred, meaningful land based work for vulnerable adults, (some of whom live within our 5 Supported Living homes located on the estate) whilst producing popular biodynamic produce for Thornage Hall's community and local markets.
In addition to our land based workshops we also offer a range of workshops in our Day Service facility. Staff at Thornage Hall Independent Living provide support to our tenants and day service users to ensure they learn new skills within a positive and inclusive community where they are encouraged to live, learn and work.
Find out more:
Website: https://www.thornagehall.co.uk/
Email: office@thornagehall.co.uk
Facebook: ThornageHallIndependentLiving
Instagram: thornage_hall
Twitter: ThornageHall
Youtube: ThornageHall
Family Action Norfolk & Garden Organic
Our ESCAPE Community Allotment Project based at Tumbler Hill in Swaffham was started 10 years ago to support mental health and wellbeing by encouraging people to be outside, learn new skills and make new friends. We started in a very small way but over the years we have expanded the size of the allotment and now also manage a community orchard too. Between 70-80 adults (over 18yrs) participate in the project and for the last 3 years we have also been in partnership with the College of West Anglia to offer the opportunity to study for a Level 1 and Level 2 City & Guilds Certificate and Diploma in Horticulture Skills.
In April 2019 we extended the opportunity to participate in therapeutic horticulture to people living in the King's Lynn area by starting our Discovery Garden in partnership with Freebridge Housing at the Discovery Community Centre in North Lynn.
Both projects provide the opportunity for participants to learn about gardening and to study for a qualification, to learn about growing food and cooking in our onsite outdoor kitchens – as well as volunteering or becoming a Garden Organic Master Gardener and taking part in outreach projects to promote gardening to the wider community. Mainly though, our projects are about making new friends, learning new skills and having fun.
The Growing Communities project is a 3 year lottery funded project which brings together volunteers and local people to undertake therapeutic and community gardening activities and learn new organic horticultural skills. Growing Communities is a partnership between Garden Organic and the ESCAPE project. So far over 40 people have trained to become Master Gardeners to work within the community to promote organic growing. Over 1000 therapeutic sessions have been carried out as part of the project at ESCAPE.
NB – During the current Covid-19 pandemic we are sadly having to restrict numbers on both sites
Find out more: if you would like to know more or become involved please contact Karen Bek or Katy Fullilove by private messaging them through our closed Facebook Group Page – The ESCAPE Project and Growing Communities or telephone Katy (07816405954) Monday to Wednesday or Karen (07785752761) Monday to Thursday or ring our Swaffham office on 01760 720302. Growing Communities Project co-ordinator: Suzanne Walker: email swalker@gardenorganic.org.uk
Family Action transforms lives by providing practical, emotional and financial support to those who are experiencing poverty, disadvantage and social isolation across the country. We were founded in 1869, and today work with families and individuals through over 160 community-based services. You can find out more about Family Action by visiting our website https://www.family-action.org.uk/
Grapes Hill Community Garden
Grapes Hill Community Garden is a small (50 metre by 12 metre) community garden only a short walk from Norwich city centre. The garden is looked after by Grapes Hill Community Garden Group (GHCGG), a Registered Charity (No. 1156616).
The garden formally opened in August 2011, so we will be looking to mark our 10 year anniversary in 2021 in some way.
This is extract from our Charitable Objects:
1. To provide facilities for recreation by providing an area for use as a community garden and other activities for individuals in the Grapes Hill area with the object of improving the condition for life for said Inhabitants.
2. To provide opportunities for learning about horticulture in and around the community garden.
Learn how to get involved in this exciting project.
Visit the garden and join the Grapes Hill Community Garden Group using our Membership Application form and apply to rent a raised bed.
Subscribe to our general mailing list to receive newsletters and invitations to new events, workshops and courses and / or our our volunteers list if you want to receive emails about volunteering with our group.
Find out more: http://grapeshillcommunitygarden.org/pages/
Greener Growth
Greener Growth is a community interest company that takes neglected areas and makes them food-producing and biodiversity-enhancing. We work in schools, prisons and other community settings, and we also work with businesses and private households to provide makeovers of all shapes and sizes where the profits we raise are used to support our other community projects.
It's very important to us at Greener Growth to both help people and look after the environment. That's why we work with some of the most disadvantaged groups in society including ex-offenders and the homeless. Testimonials tell us we're making a difference to people's lives by improving social relationships and integration within all types of residential and business communities.
We introduce people to the health benefits of growing their own food, and those aren't just nutritional benefits. We teach people about the therapeutic benefits of interacting with nature as well as personal well being and crucial life skills.

Greener Growth fully supports social cohesion, and much of our work is focused on bringing people together in the conservation, enjoyment and protection of nature. Communities are found everywhere, in schools, prisons, towns and offices, so that's where we operate too.
Each project is designed and delivered to the specific needs of our clients. When we work on a green project we use permaculture techniques such as rainwater harvesting, composting areas, raised beds, fruit trees and ponds. We also work with communities and teach people to build, plant and maintain food crops and to prepare nutritious meals. We were founded in 2013 and since then have used permaculture principles and techniques to work in harmony with nature.
We are always looking for new projects and communities we can help so please get in touch with us. We can help with funding, garden and conservation infrastructure, advice, expertise and support.
Find out more:
website: http://www.greenergrowth.co.uk
email: info@greenergrowth.co.uk
Meadow Harvest
Meadow Harvest is a small market garden, in Cringleford, Norwich. We are very new, having only started growing small scale to friends and family in 2019. We quadrupled our growing area in 2020 and hope to double it in 2021. We offer a weekly vegetable box scheme and some wholesale.
Our ethos is about about providing people with fresh nutritious vegetables and we offer some volunteering opportunities. The garden is run on a part time basis by 2 friends, Jan and Jannine. We hope to expand our green care element over the next year and will let you know what we are up to as soon as we work it out.
We are always open to new ideas so please get in touch.
Find out More:
Facebook: http://www.facebook.com/themeadowharvest
Email: meadowharvest@tutanota.com
Norfolk and Waveney Mind
We believe in the therapeutic and social and health benefits of gardening and practical outdoor projects . We currently work on sites in Great Yarmouth , Kings Lynn and Norwich.
Community Roots, Great Yarmouth
This is a flourishing Community Garden with education space. We have regular group gardening sessions, courses , a woodwork club , art and craft club and cycle hub.
The garden groups currently meet on Mondays or Fridays . Get in touch to find out more and possibly get involved in a weekly session.
You can refer yourself or be referred .
Contact Caroline Fernandez, Horticultural Projects Manager
Email: caroline.fernandez@norfolkandwaveneymind.org.uk
Mobile: 07814116698
Community Roots Cycle Hub
Drop in Cycle Maintenance sessions, 9.30-12.30 every Friday at Community Roots. Small fixes done there and then, any bike that can not be fixed there and then will receive written feedback containing advice. No need to book. Free. Max four participants , arrive early to arrive disappointment, numbers are limited due to Covid. Please respect social distancing and government guidelines.
Gardening 4 Health, Kings Lynn
Our award-winning allotment is situated in the heart of North Lynn and is in fact made up of 5 plots. It started as a large field of wild grass, stinging nettles and other weeds but has been transformed into a vibrant and viable piece of land.
Adults can apply to take part in 12 week 'programme' of practical gardening at the Gardening 4 Health allotments . Trained volunteers and one member of staff can guide you and in the practical gardening tasks . Sessions are Tuesdays or Thursdays .
Contact Geoff Seymour, Therapeutic Allotment Worker to apply and arrange a visit .
Email: geoff.seymour@norfolkandwaveneymind.org.uk
Mobile: 07743157294
Find out more: https://www.norfolkandwaveneymind.org.uk/
The Walled Garden- Community Shop, Café & Garden- Litttle Plumstead
The Walled Garden Community Shop, Café & Garden is run as a community benefit society. This means all money raised by the business goes back into the business, for the benefit of everyone in our local community. A group of dedicated volunteers have spent the last three years planning and delivering this project; building and opening a shop and café within a derelict Victorian walled garden.
The Victorian Walled Garden formerly served Little Plumstead Hall and later part of Little Plumstead Hospital. The garden started out as a productive garden for the hall and was later a therapeutic garden tended by hospital patients.
In this new era we aim to create a design reflecting the gardens heritage, as well as a social space for the community to enjoy. Victorian style beds and planting will include heritage variety apples and pears in the cordon style around the walls, and the introduction of a Medlar, Fig, Quince and Mulberry. Flowers will also factor strongly in the new beds, hopefully producing cut flowers for sale.
The gardening renovation is happening due to a great team of volunteers who come along twice a week on Wednesdays & Saturdays. We have already cleared 10 years of undisturbed growth and laid out the new paths. Planting has just started, mainly thanks to donations from local residents.
We are forging links with our community to be a hub for those wishing to be directly involved in a nature project, and there is also the opportunity to be involved in our friends of the walled garden group to discuss and make decisions on the garden development.
We would love to hear from anyone who would like to volunteer with us or interested in helping with our project.
Find out more:
Website: https://thewalledgardenshop.co.uk/
Email: enquiries@thewalledgardenshop.co.uk
Instagram & Facebook: @thewalledgardenshop
Strong Roots
Strong Roots combines psychological therapy with being in a garden setting. It is located on 4 adjoining allotments on the Bluebell Allotments [Northside], The Avenues in Norwich.
Lucy Scurfield, the co-ordinator, is an integrative therapist and counsellor, accredited through the process of the Independent Practitioners Network [www.ipnetwork.org.uk]
and registered with the United Kingdom Council of Psychotherapy.

We are a registered charity and rely on payments and donations to help cover our services and running costs. Our charges are flexible and
decided on an individual basis – we ask our clients to contribute as generously as possible.
PLEASE GET IN TOUCH if you think that Strong
Roots might help you – you really can relax and be
yourself in this calm, no-pressure setting.
Find out more:
Website: https://strongroots.org.uk
Email: info@strongroots.org.uk
Diss Community Farm
Diss Community Farm is, effectively, a shared allotment where members come to work and take home a box of whatever is harvested that day. We grow to share our crops amongst ourselves and not to sell them. We value highly good, local and organically grown vegetables (and some fruit).
Recently, our principal work day has been Thursday, from about 10 am until about 1 pm. When we have needed to put in more work, some of us come on Monday mornings too. Some members cannot make these times and come at other times, such as Saturday mornings.
We use a field in Winfarthing, a few miles north of Diss, behind the Fighting Cocks pub. It is owned by a local farmer, David Mitchell, who is part of the group, and is extremely helpful.
We are very informal, with most decision-making taking place during the coffee break during our work days. These are usually quite lively, with really good coffee and cakes most weeks. We do have one Annual General Meeting in the year, where we make plans for the year.
We expect members to commit to come regularly, most weeks if possible, but this is not rigid. If you don't turn up one week, you miss out on that day's vegetable share.
We obviously welcome experienced gardeners, but novices are equally welcome, as there are always tasks for every level of experience and strength, and people with experience to show you what is needed. The work ranges from heavy digging to light picking.
Very little money is involved. We all contribute annually, once we have estimated the costs for the year. For 2017 that will be £75, or roughly £1.50 per week, for which you get wonderful, fresh, organically grown vegetables every week, wheelbarrow loads at peak harvest times, but not much during the spring. If there are extra expenses, we ask all members to contribute as needed.
Find out more:
Website: https://disscommunityfarm.org/
Serendipity Garden Project
The Serendipity Garden Project (based at the Hawk and Owl Trust's Sculthorpe Moor Nature Reserve just outside Fakenham), aims to provide a "green experience" for adults with mild learning difficulties and/or mental health issues, as well as those who may feel lonely or cut off from society. We offer one-to-one sessions or welcome small groups from the local community.
A greenhouse ("soon-to-be" wheelchair accessible) surrounded by raised beds sits in a safe, secure garden off the main car park to the reserve. A variety of gardening activities are offered, including seed sowing, propagation, planting, weeding etc of vegetables, herbs and flowers, led by volunteers with training in Social &Therapeutic Horticulture.
For anyone preferring more conservation orientated work, the reserve offers additional supervised opportunities to get involved with activities such as tree and hedge planting, scrub removal and habitat creation, again on a one to one basis or as part of a group.
The multiple benefits of being part of the outdoor environment, be it in a horticultural context in the garden or amongst natural habitats in the countryside, are well documented and acknowledged to be both therapeutic and enhancing in their ability to improve physical and mental well-being. We look forward to sharing these benefits with you.
For more information regarding attending sessions or volunteering at the project, please contact Lin Garland :
Email: garden.project@hawkandowltrust.org.uk
---
Stepping Stones
Stepping Stones is a charity for adults with learning disabilities in Norwich. One of our core activities is horticulture which we practice on our multiple allotment plots on the Mousehold North allotment site. Our plots have a mixture of growing environments and ecology features. We have four polytunnels, a greenhouse, composting toilet, a pond, many fruit trees and raised beds.
We grow food for use in our Day Centre's kitchen and run regular plant stalls in spring and summer. Our students are on site 3 times a week and their work feeds into other activities at our day centre including cooking, art, photography, film making, music and I.T.
We are always looking for new allotment volunteers who are keen to learn more about food growing, social and therapeutic horticulture and supporting vulnerable adults.
Find out more: www.steppingstonesproject.com
The Plantation Garden
The Plantation Garden Preservation Trust (PGPT) is a registered charity (no. 1165433) and was formed in 1980.
Since then, almost all of the work involved in maintaining and developing this Grade II registered site has been carried out by enthusiastic volunteers. This includes the gardening itself, fundraising activities, publicity and the organisation of an extensive programme of community activities and entertainments.
Individual helpers contribute according to their own interests and availabilities. Some people give many hours on a regular basis, while others are happier helping at particular events, or baking cakes for the Sunday refreshment stand. All are equally valued as without the combined effort of everyone the Garden would not be what it is today. New offers of help are warmly appreciated.
Overall management is also by volunteers, and the Management Committee, which is responsible for the day-to-day business of running the Trust, is elected annually by the 700-strong membership. New talent is always welcome here too!
Visit www.plantationgarden.co.uk for more info