PhD Candidate at the International Institute for Industrial Environmental Economics, Lund University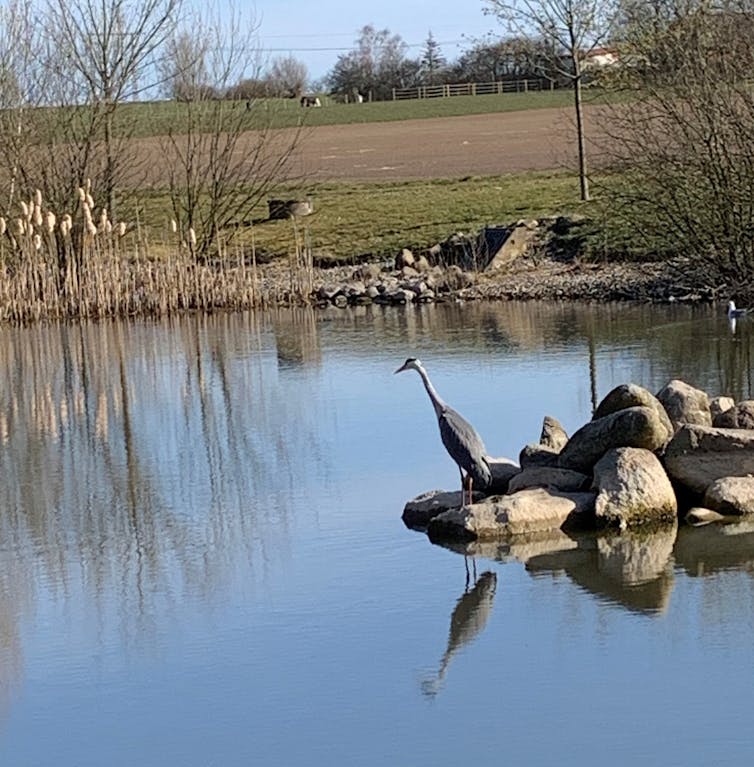 Throughout the past year of working from home, I have gone for numerous morning, lunchtime and evening walks around my neighbourhood in the Eastern parts of Lund in Sweden. My neighbourhood has three dams for storing stormwater in the event of extreme rain. These help slow the water instead of overburdening the city's underground water sewage system, which would increase the risk of flooding.
It was at one of these stormwater dams where I first made friends with a beautiful and majestic heron. Like other birds, the heron seems to have found its home here – and it moves between the three dams depending on the time of the day.
I once saw the heron catching a fish, like a better version of one of these TV shows about nature. This vivid image of the heron with the fish has stuck with me – maybe because I observed it directly with my own eyes.
I find myself returning to the image of the fish-catching heron and pondering on the fact that this bird and I depend on the same ecosystem. The heron for habitat and food, I for recreational purposes (like my pandemic-induced walks) and being saved from flooding. We are so separate, and yet connected.
Multifunctional spaces
These dams aren't just a water management solution. When it's cold, they freeze over and provide ice-skating facilities. As well as looking visually striking, they also provide ecosystems and a habitat for animals and wildlife to thrive in.
This kind of multifunctional infrastructure is becoming increasingly popular, with many cities adopting so-called "nature-based solutions" to not just solve environmental problems and safeguard biodiversity, but to also provide local people with recreation space.
In the Naturvation project, which looks at the potential of nature-based solutions to transform cities, nearly 1,000 examples from 100 cities have been collected.
One of my favourite examples is Melbourne's Urban Forest Strategy, developed to adapt the city to climate change and to improve the wellbeing of people living there. The plan has seen the city increase the number of trees and green spaces.
It also involved setting up a database that maps all the trees in the city. Through this database, people have then been able to send e-mails to individual trees, as a way of connecting with and communicating their love for their favourite tree.